Pretzel Toffee
1 (9 ounce) bag tiny twist pretzels
1 cup butter
1 cup packed brown sugar
1 (12 ounce) package plus 1/2 cup semi sweet chocolate chips
Preheat oven to 400 degrees. Cover a 15x10 inch baking pan with aluminum foil.
Arrange pretzels in bottom of the pan, in a single layer.
Carefully pour brown sugar mixture over pretzels.
Bake 10 minutes. Remove carefully from the oven.
Sprinkle chocolate chips over top.
Let stand 5 minutes. Spread chocolate smooth.
Cool. Refrigerate 1 hour. Peel aluminum foil away from toffee.
Break into pieces.
Annette and Fareed
Right after Christmas, Fareed fell outside of the radio station and broke his leg in two places. He had surgery to place a rod in his leg and it has been a long road to recovery for Fareed. He is missed around the radio station. Going in to record my shows is just not the same without him there.
Fareed loves chocolate; so to help him feel better, I made a batch of Pretzel Toffee for him yesterday and today I am going to drop it by and check on him. Please keep Fareed and his wife Annette in your prayers.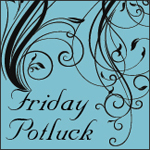 Visit my friends blogs!